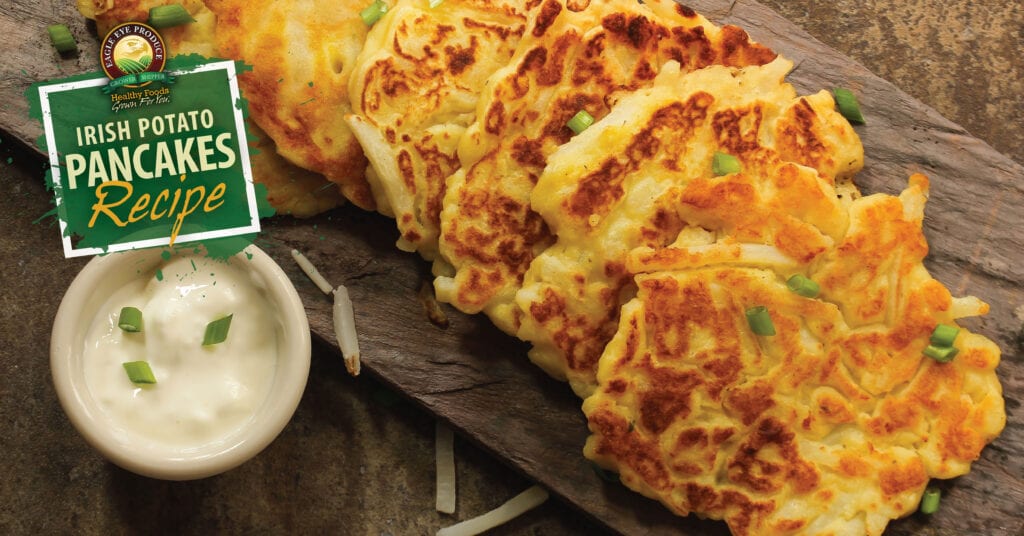 These traditional Irish potato pancakes are truly the best of both worlds. Part pancake and part hashbrown which means they are perfect for breakfast and dinner!
Ingredients
2 lbs. of large Yellow Potatoes
3/4 cup Whole Milk
1 1/4 teaspoons salt
1 Large Egg
1/3 cup Flour
1/4 teaspoon Black Pepper
1-2 tablespoons of Butter
Directions
Start by heating your oven to 200 F.
Dice your large yellow potatoes and place them into a medium-size saucepan. Salt generously, and then cover with cold water by 1 inch. Bring the water to boil over high heat on the stove then reduce to low heat. Simmer uncovered potatoes until tender. It usually takes about 8 minutes.
Grate the remaining potatoes with the large holes on a box grater. Add 1/4 teaspoon of salt and place them in a mesh strainer. Set over a medium bowl and set aside.
Once your boiled potatoes are ready then drain them and return them to the pot. Add milk and mash until the potatoes are smooth.
Press grated potatoes with a spatula to remove any liquid then add the grated potatoes to the mashed potatoes and stir until evenly distributed.
Place the egg, remaining milk, flour, pepper, and 1 tsp. of salt in a large bowl and whisk until smooth. Add the potatoes and stir until evenly incorporated.
Heat a frying pan over medium heat then add butter to lightly coat the pan. Drop 3 dollops of the batter onto the pan and spread each to be about 1/4 inch thick. Cook until golden brown, and then flip to cook the other side until golden brown.
Serve warm and enjoy!
Did you know Eagle Eye Produce grows several different varieties of potatoes? Find out more here!